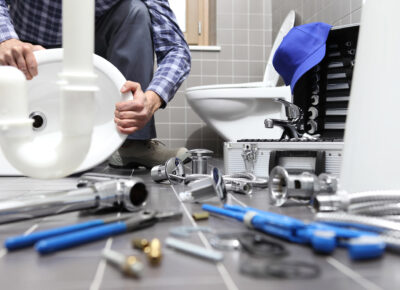 Let Maffet Plumbing be the answer to your search for plumbers in Paulsboro, NJ! We are centrally based in Gloucester County, and we serve home and business owners throughout the region with all of their plumbing needs.
If you have a plumbing emergency, we're here to help – call us now at 856-337-0706.
The Maffet Plumbing company was started by Aaron Maffet, a successful plumber in the region for years, and his wife Kim. Aaron and Kim's dream was to own a plumbing company that was based in the area, that could provide the white glove service of the bigger chains. From his years in the business, Aaron understands what customers want for plumbing services…someone who answers the phone when they call, shows up when they say they will, and provides a detailed explanation of plumbing solutions before proceeding.
We're always available to answer your call, any time or day of the year. When you call us with a plumbing emergency, we work to provide you same day service however possible, and we schedule non-emergency calls to be handled in an orderly fashion. Our plumbers will fully explain your plumbing problem or needs to you, and they are trained professionals who behave courteously in your home or place of business. We'll also be sure to provide you with a detailed estimate before performing any work.
We handle all your plumbing needs from A to Z, including leaks, clogs, water heater fixes, appliance hookups and much more. Maffet Plumbing charges by the job and not the hour, so it's just as important to us as it is to you for us to get the job done right the first time. Be sure to ask about our affordable maintenance plans, that include priority service, discounted rates, and free inspections.
Reach out to us for these and other plumbing needs in Paulsboro:
Pipe leaks including broken and burst pipe emergencies
Clog removal from drains and pipes
New water heater and tankless water heater installation
Installation of sump and booster pumps
Installation of water purification systems
Safe and secure installation of natural gas lines
Appliance and fixture hookups
Request Your Paulsboro Plumbers' Services Today.
Whether you need repairs, installation, or maintenance, leave the job to your local established pros…let Maffet Plumbing be your choice for plumbers in Paulsboro. Contact us today with your plumbing needs. We'll respond to you whenever you call, with the white glove service you expect!
Interested in finding out more about your service and what we can do for your plumbing needs? Be sure to have a look at our Facebook page!