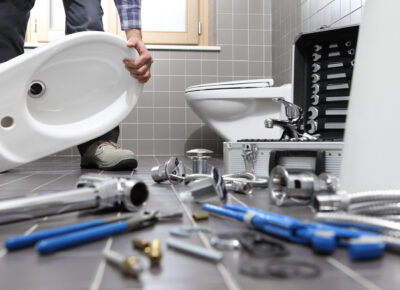 Maffet Plumbing is your professional team for quality plumbers in Logan Township, NJ! We're centrally based in our new location and we answer the plumbing needs of home and business owners in the Gloucester County region. We're dedicated on every job to white glove, personalized service, without the hassles of dealing with larger outfits.
Do you have a plumbing emergency? Call us immediately at 856-337-0706.
Any time you are experiencing a plumbing problem, you shouldn't let it sit. Take care of even your non-emergency problems before they grow worse and turn into emergencies. When it's time for you to call on a plumber, you should be able to rest assured that the job will be done right, and that you won't have to wait endlessly on the phone to schedule your appointment. You should also be able to count on your plumber to behave courteously in your home, and take any necessary safety measures.
Reach out to us for any of your plumbing needs, at home or place of business, including:
Leaks and Pipe Issues – We will diagnose the cause of your leak and offer you the best solutions for fixing it.
Clogs and Backflows – We can use our advanced equipment to effectively correct the problem, using camera inspection if needed.
Sump Pump and Water Heater Installation – We install top name brands in sump pumps including Liberty and Zoeller, and we also install tank and tankless water heaters in your home.
Water Purification System Installation – Our water purification systems clean and purify your water to make it safer and taste better.
Natural Gas Line Installation – We make sure your new natural gas line is installed properly and safely.
Fixtures and Appliance Hookups – Reach out to us to hook up your garbage disposals, toilets, dishwashers, hose bibbs and much more.
Professional and Dependable Logan Township Plumbers
Maffet Plumbing is a locally based and family-owned business, so we know how important hot baths for your family, washing dishes and clothes, and all of your other plumbing needs are. When you call our office, you'll speak with a live person who lives in your community, and immediately goes to work finding an answer for your problem. Our technicians are available on weekends and after hours, so you can reach out to us anytime.
Our plumbers work with you from start to finish to provide you with first class, reliable service. We take the time to put on booties when we enter your home or place of business. We'll carefully inspect your plumbing problem and explain it to you in detail, as well as your best options for fixing the issue. Maffet Plumbing charges by the job, not the hour, and we handle everything from leaking or clogged pipes to appliance hookups and more. We can also keep you protected with our affordable maintenance plans that stop problems before they start.
Reach out to Maffet today for all of your plumbing needs, and find out what makes us your choice for plumbers in Logan Township!
Interested in plumbing tips, case studies, and employment opportunities? Check out our Facebook page!