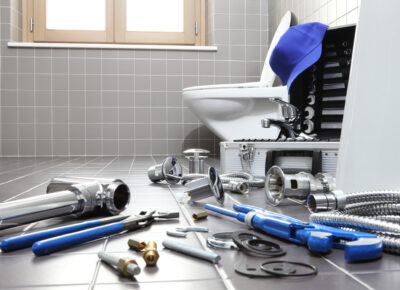 Maffet Plumbing is your destination for plumbers in Pitman, NJ! We are locally based right here in Sewell, and we offer top notch plumbing services for both home and business owners throughout Gloucester County.
We are ready to respond to any plumbing emergency…if you need help right now, call us at 856-337-0706!
The founder and owner of Maffet Plumbing, Aaron Maffet, had been a successful plumber for many years before starting his own company with his wife Kim. Their goal has been to offer white glove service to customers while still remaining a local entity. Aaron understands from his years of experience what customers are looking for…an actual person to answer the phone when you call, being able to answer to emergencies quickly, and fully and clearly explaining your plumbing issues and what's needed.
When you call Maffet Plumbing, someone will be available to take your call, no matter what day or time it is. We prioritize your call for same day service in an emergency, and we schedule our other service calls to be answered in a timely manner.
Our staff is committed to being there when we say we will, communicating with our customers, and behaving courteously and professionally in our customers' homes. We thoroughly investigate your problem, explain what you need, and give you an estimate before performing any work.
Maffet is here for all of your plumbing needs…leaks, clogs, water heater issues, appliance hookups and more. Our services for Pitman residents and business owners include:
– Leaking and Broken Pipes
– Removing Clogs and Backflows
– Water Heater Installation
– Sump Pump and Booster Pump Installation
– Water Purification Systems Installation
– Safe Installation of Natural Gas Lines and Pipes
– Fixture and Appliance Hookups
At Maffet, we're dedicated to quality work and craftsmanship with every job. Our plumbers charge you by the job, not the hour, so it's in our interest to get the job done right the first time. We also offer affordable maintenance plans that include discount prices on plumbing jobs, priority off-hours service, and free inspections.
Contact Our Pitman Area Professional Plumbers Today.
Let Maffet be the solution for your plumbing needs, and your choice for plumbers in Pitman. Reach out to us today and request the service you need. Maffet will offer you the white glove service you've been looking for!
Interested in seeing more about plumbing services we offer? Follow our Facebook page today!